SSAFA, the Armed Forces charity
Edmund Shillabeer, aged 83, will be competing in the TLS London Marathon on Sunday 23 April to raise money for SSAFA, the Armed Forces charity. Edmund is the oldest runner for the charity, but also one of the most experienced extreme athletes.
Participants in the TCS London Marathon must run the standard marathon distance of 42.2km across London, making it a gruelling challenge. However, Edmund is no stranger to running these distances.
"I ran my first marathon in 1971," says Edmund. "I have finished more editions of the Plymouth Marathon than anyone else. I ran the very first London Marathon and the 25th one. I have run a few other London Marathons as well, but I can't remember which years!"
Edmund has a few secrets that contribute towards his phenomenal success. For one, he trains with five-time British Racewalking Olympian Chris Maddocks. He also has a specific training style.
"Over 90% of my training sessions are done at maximum intensity – a policy forced on me by lack of training time and nurtured by my best friend and oftentimes training partner Chris 'Mad Max' Maddocks. My Christian faith has also helped me through numerous challenges.
"My competitors never believe me when I tell them my low training mileage!"
Edmund has also completed IRONMAN challenges and quadrathons, which involve swimming, cycling, walking and running. But what is the secret of this octogenarian's athleticism?
"Regular consumption of a full range of organic supplements," says Edmund. "But otherwise, a lack of any modern sports science methodology or coaching."
Being a veterinary surgeon, however, Edmund knows his way around bodies and their capabilities. He's put his skills to good use and is a shining example of what can be possible in later life.
"When I entered the Fosters Quadrathon (entailing a 2.4 mile sea swim, a 51km walk, a hilly 112 mile cycling stage and a full marathon to finish), 100 people had qualified to take part, 81 started and 64 finished. As the oldest competitor, I was third!
"The winner had trained in the Himalayas and second place went to an ex-SAS man who trained full time – and I came third. Aside from the week leading up to the event, which I took off, I was working full time throughout my training!"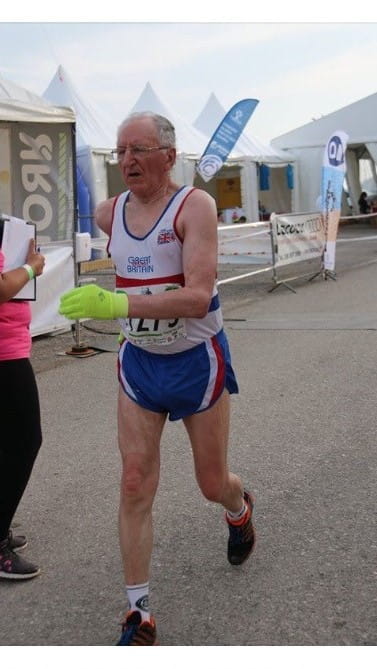 To support Edmund's fundraiser, click here – and to find out more about running the TCS London Marathon for SSAFA, click here.