Nissan's DEI ambassador Adele Roberts will attempt a Guinness World Record at the 2023 TCS London Marathon
Along with partner TCS London Marathon, Nissan is proud to announce that its Nissan Diversity, Equity and Inclusion ambassador Adele Roberts will be running at the event on Sunday 23 April 2023. She will be joined on the Start Line by fellow Nissan ambassador and Paralympic athlete Richard Whitehead MBE.
Although this will be Adele's third London Marathon, this one is particularly special. Over the past two years, Adele has been sharing her story after being diagnosed with stage two bowel cancer. As a result of her surgery to remove her tumour, she had a stoma while her bowel healed, alongside chemotherapy. In summer 2022, she received the news that she was free from cancer.
Adele has now decided to take on the challenge of completing the TCS London Marathon with her stoma and will be looking to set a Guinness World Record as the 'Fastest marathon with an ileostomy (female)'.
Adele said: "I'm very excited to be taking on this challenge with 'Audrey' (the name Adele has given her stoma). It was an honour to be a part of Rainbow Row with Nissan at last year's marathon, creating an inclusive safe space for the LGBTQ+ community. This year I'm looking forward to running through Nissan's Cheer Zone in Rainbow Row as a proud member of the community."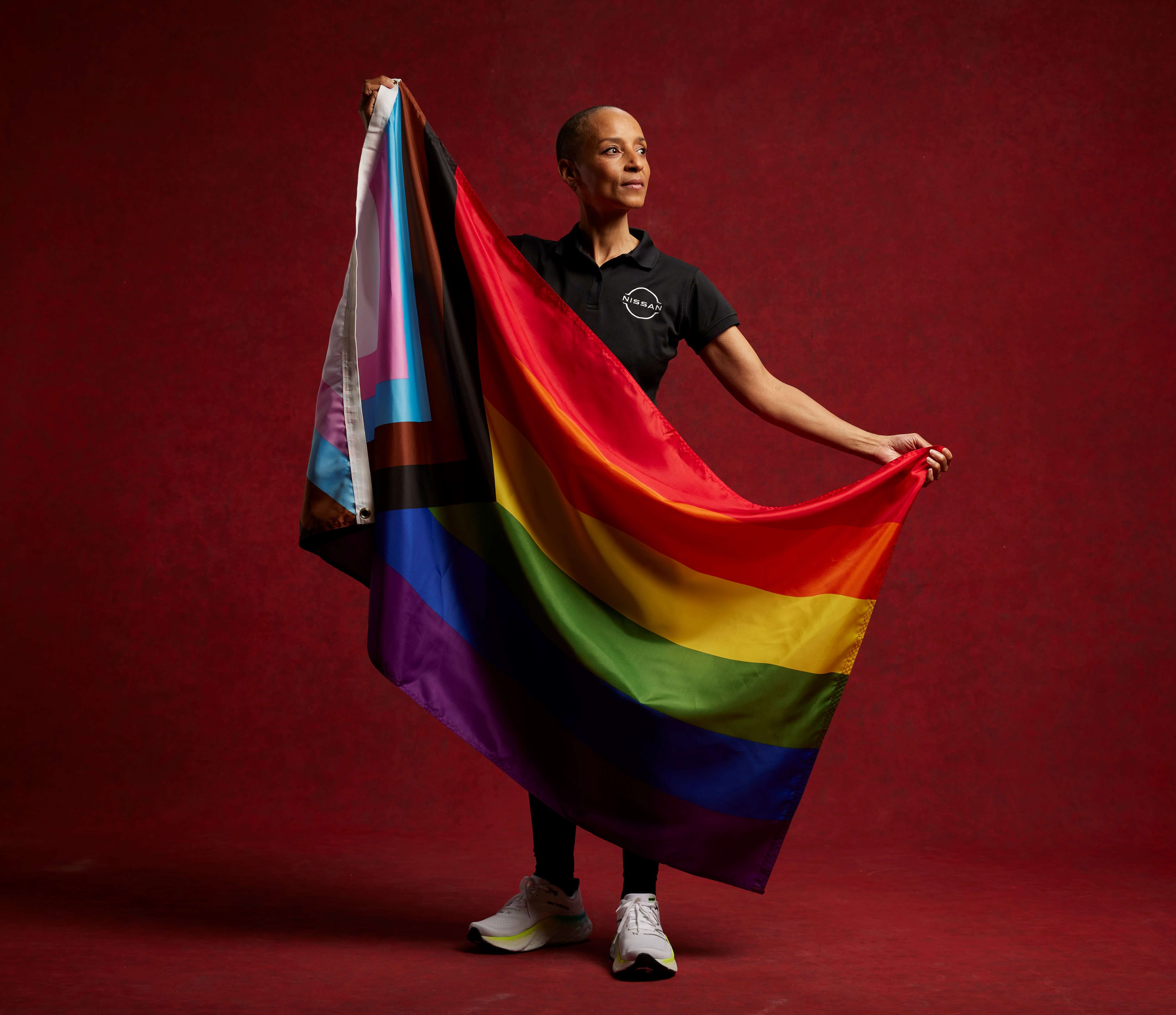 Adele Roberts (image provided by Nissan UK)
Andrew Humberstone, Managing Director at Nissan GB, commented: "We are proud to support our fantastic DEI ambassador Adele as she takes on this inspiring challenge. Adele has worked with us supporting the LGBTQ+ community at our running events and through the Possibilities Project and continues to be a great example showing us what's possible living with a disability."
The Nissan Possibilities Project is proud to support the LGBTQ+ community and was delighted when Adele Roberts chose to fundraise for the Attitude Magazine Foundation. Founded in 2018, Attitude Magazine owner and publisher, Darren Styles OBE, to help organisations intent on making a difference across LGBTQ+ communities. Since then, it has provided funding for charities, groups, and individuals that have helped LGBTQ+ people lead happier lives and fulfil their potential.
Examples of organisations and projects in the UK and beyond that the Foundation has backed include LGBTQ+ university scholarships, HIV projects and charities dedicated to support young people. Adele's support will help the Foundation do even greater things in 2023.
Darren Styles commented: "We have been proud to champion Adele and everything she stands for and have her as a much-loved member of the Attitude family for a number of years. But it's an honour and a privilege to stand with her, and alongside Nissan, as part of her Run Proud initiative to benefit the Attitude Magazine Foundation for LGBTQ causes. We'll be with Adele (and Audrey) every step of the way and encourage our readers and followers to join us in supporting her however they can. Adele rocks!"

About the Nissan Possibilities Project
The Nissan Possibilities Project is Nissan's long-term CSR initiative, built on the core belief of making excitement possible for all. The project uses Nissan's technologies, resources and expertise to create more opportunities for people from under-represented communities, with a specific focus on supporting disability and LGBTQ+ initiatives.
Through the project, Nissan also sponsors both the TCS London Marathon and The Great Run Series. Nissan supports the events with its electrified vehicles and creates more inclusive opportunities for participants and supporters with Cheer Zones celebrating the LGBTQ+ community, and event places donated to charity partners to enable great participation from under-represented groups.