Meet some of the incredible people taking on the 26.2-mile challenge this year
Thousands of participants will take on the 2023 TCS London Marathon on Sunday 23 April, each with their own powerful reason to run – but for some, the event holds particular poignance and significance. Here is a selection of inspiring stories from some of this year's participants.

Roman Kashpur, 24, from Kharkiv, Ukraine
Roman was a member of the Armed Forces of Ukraine and served as a solider protecting the country against ongoing Russian hostilities. He was injured in May 2019 while fighting in the Donetsk region, and now has a prosthetic leg. After his recovery he continued to keep fit and, with the support of his wife and young family, is now training to run the TCS London Marathon for the first time.
Through his running he hopes to raise money for injured Ukrainian soldiers and to inspire those with disabilities. Roman said: "Charity is what distinguishes the London Marathon. I run to raise awareness for the wounded Ukrainian soldiers who have lost limbs in this war – to raise additional funds for state-of-the-art prosthetics, rehabilitation and social support programs for wounded soldiers.
"Sport is extremely helpful in the psychological and physical rehabilitation of people whose health was affected by the war. I want to show people who, like me, have faced a serious injury in life, that through sport you can recover and continue an active, fulfilling life [and] achieve your goals."

Ashley Grote, 40, from Norwich
Charity: Great Ormond Street Hospital Children's Charity
Ashley's daughter, Emily, was diagnosed with a brain tumour aged three years old, and since then the family has been supported by Great Ormond Street Hospital (GOSH) throughout her treatment. Having been diagnosed at an early age, Emily, now 12, has grown up in the hospital. Ashley, the Master of Music at Norwich Cathedral, has run seven London Marathons and is hoping to bring his fundraising total for Great Ormond Street Hospital Children's Charity, the 2023 TCS London Marathon Charity of the Year, to more than £150,000.
Ashley said: "Emily is remarkable really – always determined and energetic. She's lost her sight completely now but hasn't let it stop her doing things. She has tremendous confidence... she absolutely loves singing, especially since losing her sight. She has a beautiful voice and is almost in her own little world when she sings.
"Without a doubt running for Emily and GOSH has been my incentive, my driving force. I think about her on Marathon Day a lot. I find the whole event so moving, so many people running for causes that mean such a lot to them and all those people there to support them. It's an event of such goodwill, where the best of the human spirit is on display.
"Running the London Marathon for GOSH has been a life-changing experience for me, so life-affirming. It's the one day of the year where I feel I can do something for the hospital, where I can think about Emily and what all GOSH has done for us means. It feels like something positive I can do in an otherwise challenging situation."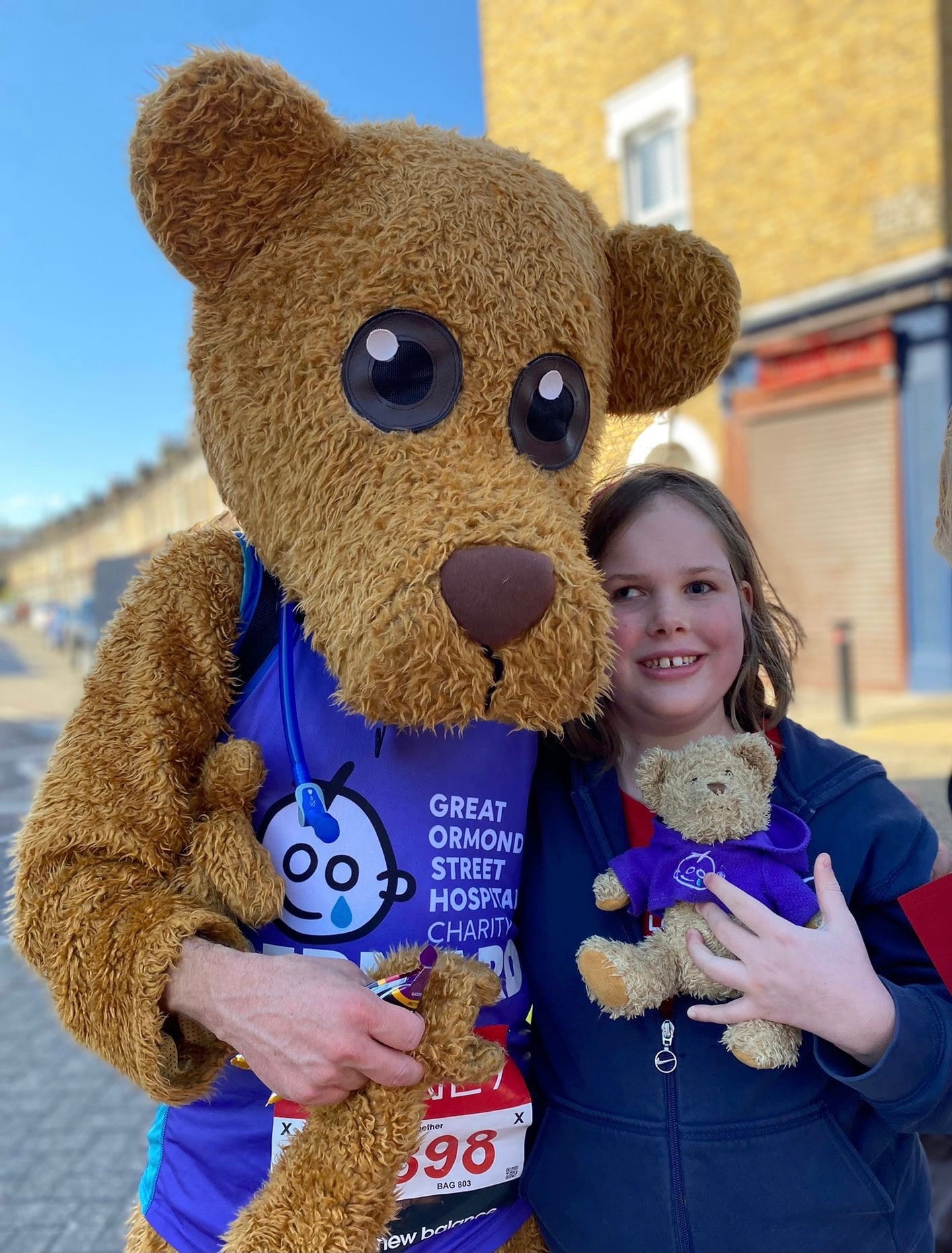 Emily Grote

Emma Bishop, 38, from London
Charity: The Royal Marsden Cancer Charity
Mum-of-two Emma was diagnosed with incurable Stage Four EGFR mutant non-small lung cancer in April 2022. At the time of her diagnosis, the cancer had spread to both her lungs, lymph nodes, spine, ribs, pelvis and liver. Under the care of doctors at The Royal Marsden, Emma has been treated with a targeted therapy, shrinking the cancer and stopping it from spreading further.
There is no miracle cure, but the medication Emma is currently on has given her hope for the future – a future that now includes taking part in the TCS London Marathon.
Emma said: "I must give back to The Royal Marsden and say thank you to all the hardworking, kind people who are invaluable and a complete constant, holding our hands and making us smile in the most frightening of times. I owe so much to them all.
"I also want to show that as hard as it is to come to terms with the fact that I have a life-threatening, currently incurable disease, I am doing my best to live a normal life for my husband and children, as well as support the discovery of new treatments that might extend my time with them. It may be that in April 2023 even with cancer, by training for the TCS London Marathon, I could be in the best shape of my life."
Emma is looking forward to joining hundreds of others raising money for The Royal Marsden Cancer Charity in April, under the strict guidance of her medical team. She has so far raised more than £48,000 for the charity.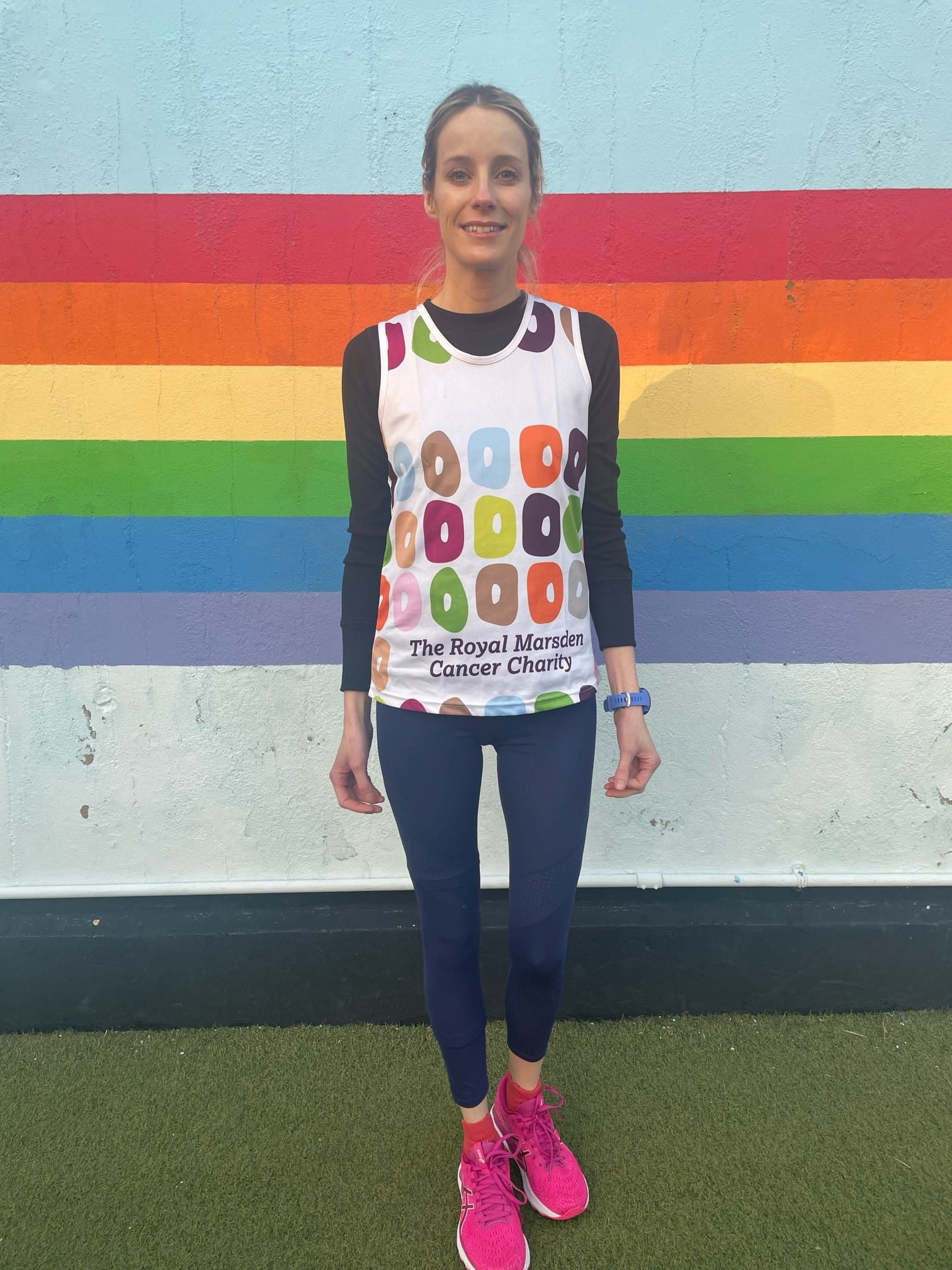 Emma Bishop

Sam Perkins, 40, from Nottingham
Charity: Stand Against Mind (SAM)
Sam was diagnosed with motor neurone disease (MND) three years ago – aged 37. A previously fit and healthy triathlete, Sam continued to live as active a life as possible after his diagnosis, with support from his family and friends.
He has set up the charity SAM – Stand Against MND – to raise awareness and funds for research into MND, as well as funding palliative care for others in his area. He will be taking part in the TCS London Marathon as one of 10 assisted wheelchair participants who, unable to self-propel, are each allowed up to four support runners, with only two at a time supporting on course. One of Sam's support runners will be four-time Ironman Triathlon World Champion Chrissie Wellington.
Sam said: "I'll be honest, as a triathlete, I was never a fast runner, and after a strong swim and bike my memories of Ironman marathons are just being overtaken for 26.2 miles. But the London Marathon has always been the one standalone marathon I said I'd train for if I ever got a place.
"I never believed that would happen and, of course, I can't do it in the conventional way. But I feel honoured to have this opportunity. I'm so grateful to the organisers, and I'm looking forward to soaking up every last drop of the fabulous atmosphere this event provides. Plus, I'm confident however slowly we complete it, it'll still be my fastest marathon ever."

Dana Abdulkarim, 37, from Sheffield
Charity: Cardiomyopathy UK
Dana's mum was diagnosed with Dilated Cardiomyopathy (DCM) more than 25 years ago. At the time she referred to her diagnosis as a 'life sentence' as she was forced to live a slower life – with only six per cent of a normal heartbeat.
Dana said: "When I was 11 my mum was diagnosed with DCM – it changed everything. At the time, she had five children between six and 13 years old. She visited the doctor after feeling very tired and breathless for a few days. At the hospital, she was told she could no longer drive, work or manage her life without pills, tests, hospital stays and a total change to how she lived."
Dana's mother died 10 years ago, and Dana now hopes to 'cross the Finish Line with her', running not only in her mum's memory but also for her sister and brother, who have both been diagnosed with genetic cardiac conditions. She will raise money to help fund the development of treatment and better understanding of heart disease so that no one will describe their DCM diagnosis as a life sentence ever again.
A practising Muslim, Dana has been training for the London Marathon during Ramadan and will celebrate Eid on Marathon Weekend. She said: "I will be training during Ramadan, another layer of challenge, but with the TCS London Marathon potentially falling on Eid itself, Sunday 23 April is fast becoming a very important day for me."

Steven Waterston, 50, from Edinburgh
After suffering a brain haemorrhage in 2003, Steven, a British Army chef at the time, took up marathon running in order to prove to the Army that he was 'fit and able'. Unfortunately, five years later, another haemorrhage would require six days of major brain surgery, which left Steven significantly visually impaired and with reduced cognitive function.
The veteran was inspired to run his first London Marathon while still recovering from that operation and in April will be running the event for the ninth time. He said: "The atmosphere is unlike any other I've experienced. The energy at the Start Line is vibrant with the nervousness on the route into the Start Areas palpable. Local support on the way round almost makes it as if it's carnival time, and with a wall of noise from the supporters and charities, it's mind-blowing.
"I've run all over the world, including Africa, Europe and America, and although they are all special for their individuality, London is by far the most special. Best supported, best organised and overall the best experience. Something magical pulls me back every year which I can't really explain, but my wife and I just love the city, the atmosphere and dare I say it – a good old 26.2 mile 'London knees up' around a beautiful city."
This year Steven will run the TCS London Marathon in aid of the charity Guide Dogs, so those with sight loss can live full and happy lives.

Liam Gilmore, 45, from Wiltshire
Charity: Plan International UK and Winston's Wish
Father-of-two Liam will take part in his first TCS London Marathon in memory of his wife, Emily, who died of breast cancer in July 2022. Emily was diagnosed with breast cancer in December 2020, two days before finding out she was pregnant with the couple's second child.
Liam met Emily in 2011 while on humanitarian work in Liberia, West Africa. After moving to London together in 2012, they welcomed two daughters in 2018 and 2021. It was during her second pregnancy that Emily received treatment for breast cancer. Sadly, the cancer returned in May 2022 and Emily passed away two months later in July of the same year.
Liam, who works for Plan International UK and was supported throughout this difficult time by his employers, will be fundraising for both Plan and Winston's Wish, which supports children and young people after the death of someone important to them.
Liam said: "I'm running the TCS London Marathon to keep a promise. Emily ran the London Marathon in 2015 and I'd hoped to run it while she was with us. The training, while hard, gives me a clear focus and helps me connect with Emily's energy and positivity, which she maintained throughout her life.
"Raising funds for Winston's Wish and Plan International is a big motivation. Money raised for Winston's Wish will enable many more children to get the specialist support they need in times of bereavement and come to terms with the loss of a loved one, like Emily.
"Fundraising for Plan is a way to say thanks for its steadfast support and to give back to an incredible organisation that is advancing children's rights and equality for girls here in the UK and globally. Being a parent to two young daughters reminds me daily just how important this work is."
Liam will be supported on Marathon Day by his two daughters and family members making the journey over to cheer him on from his native Ireland.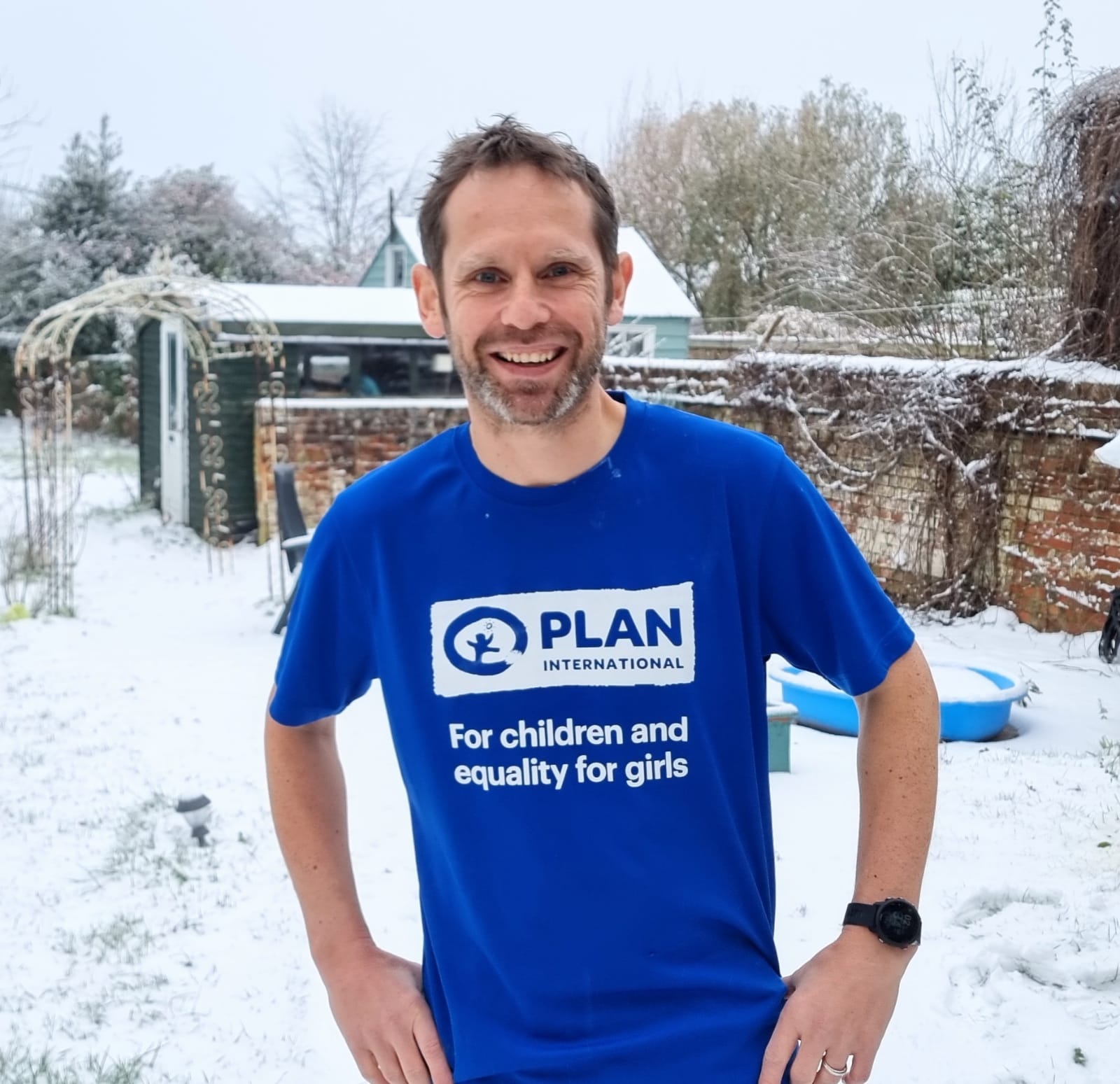 Liam Gilmore