Emon Choudhury shares how he safely and successfully completes and trains for marathons during Ramadan
Emon Choudhury – winner of the second series of BBC Two's Race Against the World – has completed several marathons over the past few years, including two editions of the London Marathon and the 2022 Manchester Marathon, which took place during Ramadan. This meant that Emon, who practices Islam and observes Ramadan, was fasting during the 26.2-mile challenge.
Now Emon is preparing for the 2023 TCS London Marathon, which falls just two days after Ramadan ends, meaning he'll again be training for the event while fasting. Here, Emon shares his running story and offers tips on how to train for and complete a marathon during Ramadan.

It would be great to hear a bit about yourself. How did you get into running?
"I only got into running two years ago – my first marathon was in London and the plan was to hang up my running shoes after that. But here I am, training for my sixth marathon and my third in London! I got into running by chance after winning the BBC Two show Race Against the World with my nephew Jamiul. The BBC asked me if I was interested in running the London Marathon to raise money for the charity that I gave my winnings to, Orphans in Need, which offers education and stability to orphaned children in third world countries and gives them a chance in life. So, I thought to myself, 'How hard can it be? I'll give it a go'.
"I first found a local parkrun to join – Roberts Park parkrun in West Yorkshire – and my love for running really started from there. Although it was only a 5K, the people were incredible, and I loved the fact that I was running with neighbours I'd only said 'hi' and 'bye' to otherwise. parkrun enabled me to develop a running network and community, which in turn encouraged me to join my local running club.
"The running has almost become secondary now, as I love the banter and being able to socialise with likeminded people. I think, after the pandemic, this has been crucial for me and thousands of others around the country.
"This year, I'm running the TCS London Marathon for the MND Association, having been inspired by my friend Rob Burrow MBE, the former rugby player who was diagnosed with motor neurone disease in 2019."

What does a typical day look like for you during Ramadan?
"Ramadan is always a special time of year for me. It's a crucial period for me to reflect on life and a great chance to tune into my spiritual side. A typical day would see me wake up very early, around 05:00, so I can do my morning prayers. This is also the time we start our fast, so just before that I usually have a big bowl of porridge, a lot of fruit and a big jug of water. After my morning prayers I tend to stay awake and start my normal day at work – the only difference is that I'm not eating or drinking throughout the day.
"I'll do my early afternoon and late afternoon prayers at work. Once I'm back home I tend to go for a run, usually an hour before my night prayer, which also happens to be the time that I'll break my fast. If I don't go for a run, I tend to go to the gym for strength training instead. After I've broken my fast, I like to read the Qur'an before I go to the mosque in the evening to do a prayer in congregation and to meet my friends and family."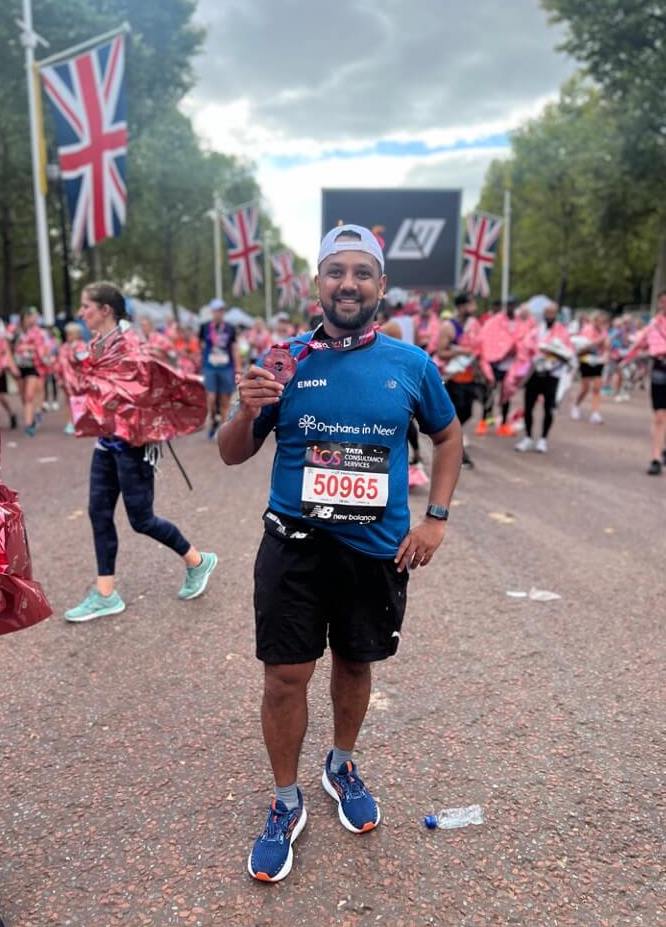 Emon Choudhury at the 2022 TCS London Marathon

What inspired you to take on the challenge of completing a marathon during Ramadan in 2022?
"My religion and running have become real passions in my life. So, running a marathon during the month of Ramadan was not only a challenge but a merging of two passions into one memorable day. I also try to fundraise for charities, so knowing I can raise a vast amount of money for some amazing causes is another inspiration. Last year I managed to raise £31,000k in a single day during a marathon!
"I have always been the type of person who likes a challenge that is a bit different and takes me out of my comfort zone – so that's when I thought about doing a Ramadan marathon. It was more of a mental challenge rather than a physical one for me. I've always known I could run a marathon – I just wanted to make it that bit more challenging.
"The 2023 TCS London Marathon takes place just after Ramadan ends, which means that participants who observe Ramadan will be fasting during the final few weeks of their training. How will you approach your own training during this time?
"I'm so happy that the London Marathon will return to its traditional date in April, but I'm also aware that it falls just after Ramadan finishes. Fortunately, because of the timing of the marathon, I will be in my rest period before the event, so I'll try to get all my long runs out of the way before Ramadan and do regular, shorter runs during Ramadan rather than longer ones. I'll also be doing more strength training during that month, as it doesn't take as much effort as a 20 mile run. Partway through this Ramadan I'm also participating in the Manchester Marathon, so I'll be running it while fasting – which means taking on no food or water before, during or after the event."

What advice would you give to others who are observing Ramadan while training for or taking part in a marathon?
"I think the best advice I can give to others training during Ramadan is to first try to do your training runs just before you open your fast. I've found that I'm still able to do decent distances of about 13 to 15 miles easily without drinking any water – but I'd always time so I finish the run at the same time I'm breaking my fast.
"I'd also recommend slowing your pace down, so try to do shorter and slower runs and concentrate on getting miles in the bank rather than getting faster. Also, Ramadan is a perfect time to go to the gym to do your strength exercises. Another key point I must stress is that everyone is different, so know your limits and only run distances that you are comfortable with. Exerting pressure on your body when you're fasting is dangerous, so safety is paramount."

You'll be taking on the London Marathon for the third time this April. What keeps bringing you back to the event?
"The London Marathon is an event I have fallen in love with – nothing comes close to that feeling when you cross the Finish Line. Many people have asked me what it's like and it's nothing I can describe – all I can say is that you should do it and experience that feeling for yourself.
"When you're running through the streets of London with people shouting your name and egging you on, you feel like a professional athlete on the home stretch of the Olympic Games. It's that feeling that brings me back every year. The way the event is organised and the friends I have made along the way are incredible. I'll try to run the London Marathon every year if possible."