Running during Ramadan? Haroon Mota shares his tips on how to succeed
If you're training for this year's TCS London Marathon and observing Ramadan, you're probably wondering how best to prepare for the event – and you're not alone!
There's no one-size-fits-all approach, but the following advice from eight-time London Marathon finisher Haroon Mota will give you plenty of useful tips and ideas, whatever your marathon goals this spring.
Haroon champions diversity in exercise and fitness as part of his work at Active Inclusion Network – and that includes encouraging more Muslims to take part in events like the London Marathon. He's also the founder of the Muslim Hikers community, who were recently featured on BBC Countryfile, and is working with the London Marathon Events' Inclusion Advisory Group to ensure our events are as inclusive as possible.
In 2021, Haroon received the Spirit of the London Marathon Award for his fundraising efforts at the London Marathon. Whenever he failed to get a place in the ballot, he took part in the event via a charity place and has raised more than half a million pounds for a variety of great causes, including disaster and emergency relief projects and humanitarian programmes.
Haroon will take on the TCS London Marathon again in 2023, so we asked him how he's planning to approach his marathon training during Ramadan – we hope his advice helps you to prepare for your 26.2-mile challenge too!

Preparing for Ramadan
Haroon: "It's of huge importance to make sure you focus on your training pre-Ramadan to ensure you reach Ramadan in the highest state of physical fitness with a strong mentality. This will ensure that when Ramadan arrives, you're ready – not to train harder, but you're ready to start tapering and to relax yourself and prepare for freshness ahead of the marathon."

Adjust your expectations
"It's really important to manage your expectations [during Ramadan]. Understand that perhaps running the marathon in a happy state is more important than anything else; running happy and healthy. So, try not to focus too much on a particular time, instead focus on getting through Ramadan and getting through to Marathon Day in a happy, healthy state."

You are unique
"Running in Ramadan is very individualised. What works for one person doesn't necessarily work for another. If running after sundown, when you're not fasting, is easier for you, then do what works for you. If you're a person who can run in the morning, early in the day, do what works for you."

Be kind to yourself
"While your training volume is decreasing [during Ramadan], it's OK to maintain your intensity but, generally speaking, the advice would be to avoid interval training and tempo work as they can be quite exhausting – but again this is very individual. Listen to your body and be kind to yourself.
"You could also think of Ramadan as a slightly lengthier taper before the marathon. And if you call it a taper, a more relaxed period, hopefully that can lead to less pressure.
"Don't be too rigid with yourself. It comes back down to being realistic with your expectations and you need to be sensible and realise that Ramadan is here, and that's your priority – your fasting and your worship – and you're going to try to fit in your training in the best ways you can."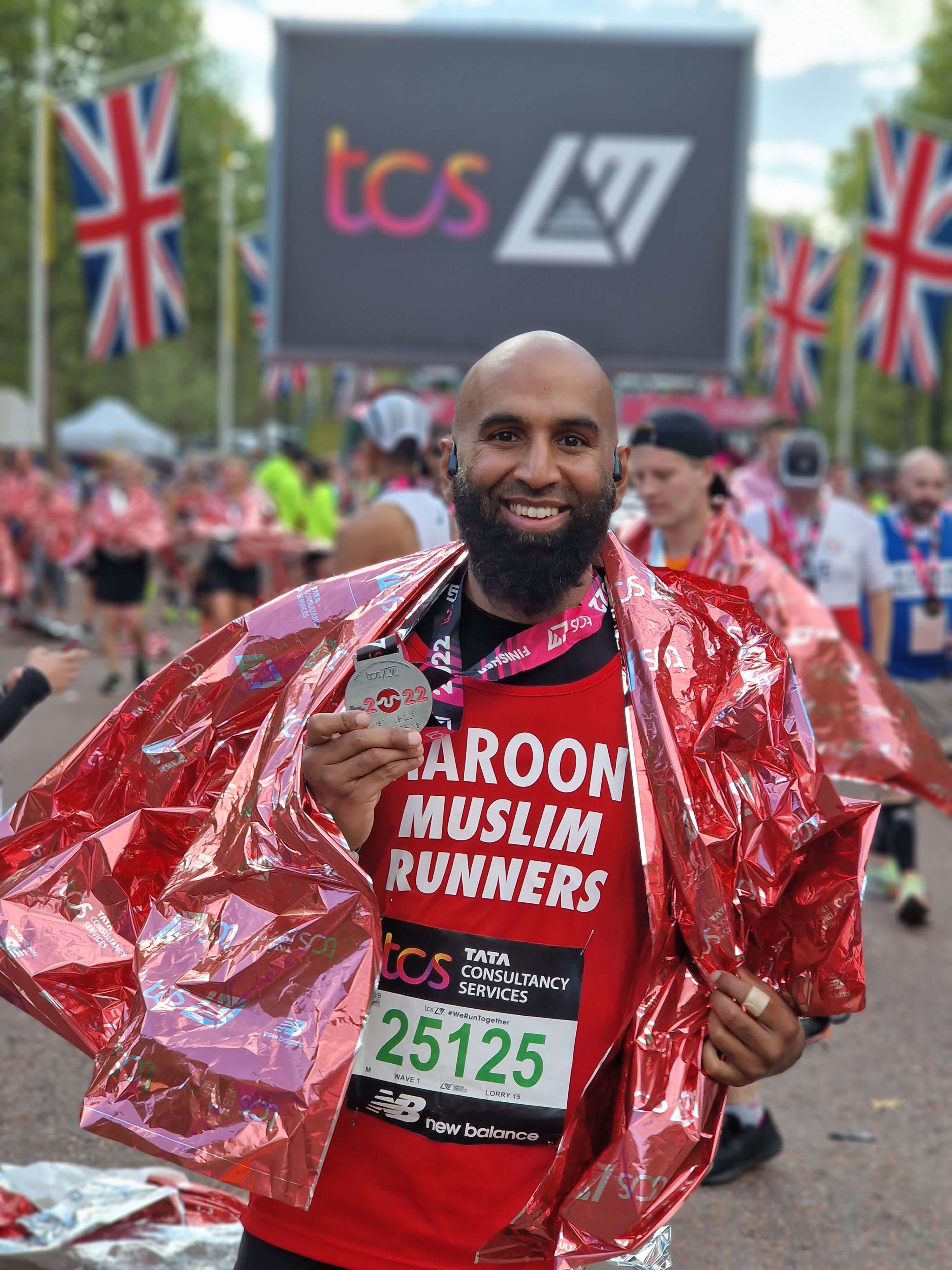 Haroon Mota at the 2022 TCS London Marathon

Enjoy experimenting
"Ramadan means you have an entire month to experiment. What might work for you and your routine at the start of Ramadan doesn't necessarily need to stick, so be flexible and do what works for you. You will come across people who are doing different things and running at different times, so don't feel pressured to do the same. Make things work for you; you're an individual."

Seize new opportunities
"Runners can often neglect some of the key principles of training, namely strength, flexibility, core, and even rest. If you're a person who neglects strength training, Ramadan offers a great opportunity; you've got a month to put in a block of core training once or twice a week and you only need 20 to 30 minutes of squats lunges, deadlifts, calf raises and so on. If you can fit in a couple of sessions a week, it will make a big difference.
"So, sacrifice one or two of your usual running sessions as part of your taper period during Ramadan to do some strength work like Pilates or yoga – these activities also promote mindfulness and offer a time to reflect.
"As much as you're trying to build your fitness, Ramadan is also a great time to practise mindfulness and make sure you're in the right sound mind to address the remainder of Ramadan and get yourself to Marathon Day. Practise positive imagery, relaxation and reflecting on being happy."

Rest and recovery
"Try to squeeze in a nap whenever you can. Be sensible and realistic and listen to your body. Our usual routines are turned upside down during Ramadan; we're staying up very late and getting up very early, and if you're working and having to train, it can be very challenging.
"Try to get more sleep and if there are times during the day when you might not have time to sleep, you could try to put your feet up and rest. Rest is as important as sleep – put your phone away, close your eyes for a few minutes and try to relax; this can be rejuvenating and help us feel a bit more refreshed."

Breaking your fast
"It's important to recognise what your body needs, versus what you might be smelling from the kitchen! In many cultures the Iftaar feast includes a lot of fried foods and treats – so try to have these in moderation.
"Your stomach constricts while you're fasting, so when you eat a small amount of food, you become full very quickly – which means if you fill yourself with foods that are a treat, it leaves you little room to have more nutritious options.
"Try to ensure 50 to 60 per cent of your plate is comprised of carbs – this will help to fuel your training during Ramadan, even though you are doing less, and it should mean you don't feel too lethargic. Carbs such as rice, pasta, potatoes, breads etc are what you need. You need energy to stay awake, to pray, to train, energy to think positively – these are all things to consider to get you through the day."

Focus on fluids
"Your intake of electrolytes is even more important during Ramadan. To replace salts lost when training, I try to make it my goal during Ramadan to drink three to four litres of water every day, which can be very challenging as there's limited amount of time to drink, so sometimes I won't go to sleep until I've drunk a particular amount – but if you don't drink you can't train.
"You might find it helpful to measure your weight before and after a run, and the difference will indicate how much fluid you're losing through sweat – and therefore how much you need to replace as an absolute minimum. Sometimes I lose as much as a litre of fluid over a 10K run during Ramadan before I break my fast, which tells me I need to replace a litre as well as all the fluids I haven't been able to replace during the day, which might be several litres.
"Avoid the temptation to eat lots when the sun goes down, naturally you feel hungry as opposed to thirsty, so I try to drink a pint of water as soon as the sun goes down. We break our fast traditionally with a date, or three dates, and water, so have that glass ready and make it a habit during Ramadan to drink water before eating.
"You might spend an hour or more at the mosque for night prayers, so make sure you take some water with you as you can easily get through a litre during the prayers by sipping it."

Find motivation through fundraising
"Charity is a massive pillar of the Muslim Faith, and also a massive aspect of Ramadan. It's also something very much valued at the London Marathon, so for any participants who haven't yet set up a fundraising page, take the opportunity to do so and start fundraising, as this will add even greater purpose and offer more motivation to help you to keep going through Ramadan when things get tough and you might lack the energy or spirit to exercise.
"We have set up the Ramadan Challenge to encourage Muslims to be active during Ramadan, and we're encouraging the Muslim Runners group and wider communities to get involved. It's a great way to connect and be part of a community of active Muslims in Ramadan. Things like running during Ramadan can often feel so much easier when there are others around you doing the same thing and you have a family of people to encourage you."